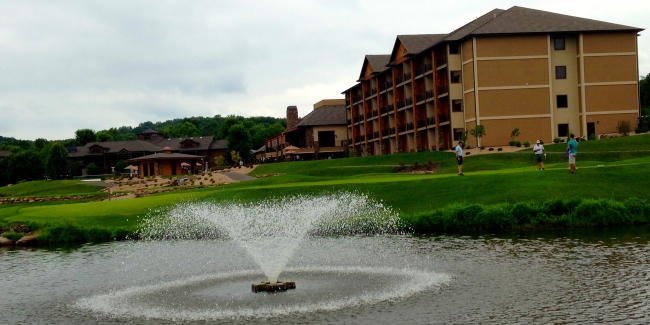 Old Kinderhook's Full-Service Expansion will also Result in a Course Upgrade
By Len Ziehm
There never was a doubt about the quality of The Course at Old Kinderhook. The Tom Weiskopf designed layout has ranked among the top three public courses in Missouri and the top 20 in the state overall since its opening in 1999.

In the last four years, though, this scenic place in the Missouri Ozarks, has undergone some major changes that have only made it better - much better, in fact.

Climaxing a series of upgrades initiated by executive director Bob Renken was the completion of the 84-room Lodge at Old Kinderhook, an upscale hotel that also includes a banquet center, indoor swimming pool and fitness center. Its creation also led to some outdoor enhancements that broadened the activity offerings at the facility and impacted one hole of the golf course.

Now adjoining the new lodge - which had its grand opening in April during the last Masters Weekend - are two courts for outdoor volleyball, a saltwater outdoor pool with a waterfall and a cabana and bar.

Guests are just starting to enjoy most of those outdoor facilities, but the volleyball area was already a big hit during the winter months. It was transformed into an ice rink that drew an average of 300 skaters per day.

Kenny Morrow, a member of the United States' gold medal-winning hockey team in the 1980 Olympics, built the rink - the only one in the Ozarks. The closest other ones are in Jefferson City, Springfield and Columbia. Not only did the Old Kinderhook rink attract casual ice skaters to an area that only rarely sees snow, it also became a venue for competitive pond hockey leagues two nights a week.

The outdoor attractions required space and some adjustment in the other buildings on the property, but more notably they necessitated changing a course that really didn't need any changing. It was popular just the way it was - but there's a good chance the revised No. 15 hole will make it even better.

Weiskopf's original design had it as a par-4 that required a layup off the tee. Since the outdoor expansion it's being played as a temporary par-3, but soon it will be a par-4 again - one that's 40 yards shorter but more challenging.

"We want it to be our signature hole,' said Old Kinderhook all-purpose staffer Paul Hannigan. "Now it'll be a drive-able par-4, and a risk-reward hole for longer hitters.'

The hole ranges from 344 yards from the back tees down to 291 from the front. When played at full yardage the course is 6,797 yards with a rating of 72.8 and slope of 137.

The change from the current temporary par-3 will take a few weeks, as the fairway is being moved 20 yards to the left, in large part to take some of the golf villas out of play. It was a necessary tweak that promises to enhance an already quality layout, one of the best of all Weiskopf creations.

Old Kinderhook has only one 18-holer, albeit the best one in the Ozarks, but visitors to the area have other golf options. The Ozark Golf Council has 13 courses on its Golf Trail, all within a 30-minute drive of each other. One of them, Lake Valley, is across the street from Old Kinderhook.

The work done at Old Kinderhook over a 16-month period came at a cost in excess of $11 million. The result was a more full-service gated facility that spans over 700 acres. Old Kinderhook's investment group took an aggressive approach during an economic downturn that particularly impacted the golf industry both in the Ozarks and nation-wide. There were also some positive upgrades made in the town of Camdenton during that period.

"Camdenton and Old Kinderhook were willing to grow during the period,' said Hannigan. "We also built 20 (housing) units, and they sold in less that two years. Now we'll be adding rental boats and jet skis.'

That bold approach, the ownership expects, will lead to more home sales, lodging rentals and general activity year-around.

Revised: 06/30/2015 - Article Viewed 30,010 Times - View Course Profile

About: Len Ziehm
---
My 41-year career on the Chicago Sun-Times sports staff ended with my retirement on June 30, 2010. During that stint I covered a wide variety of sports, but golf was a constant. I was the paper's golf writer for 40 years, during which time I covered 27 U.S. Opens, 10 Masters, 17 PGA Championships, four U.S. Women's Opens and the last 34 Western Opens in addition to a heavy load of Chicago area events.

For 20 years I was a columnist for Chicagoland Golf, a newspaper that suspended publication following the death of founder and good friend Phil Kosin in 2009. (This is not to be confused with the publication of the same name which was introduced in 2013 after being known as Chicago Area Golf for three years). I also contributed a chapter to a history book on the Solheim Cup and have been a member of the selection committee for the Illinois Golf Hall of Fame.

As a player I remain just an avid hacker with a handicap that never has dipped below 16.

---
More Articles by Len Ziehm